WA8560G1 8.5kg WashSmart Top Load Washing Machine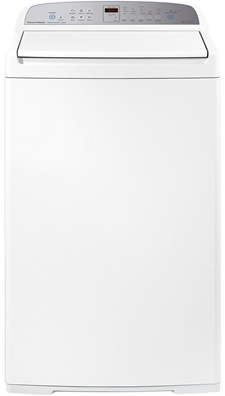 This 8.5kg top load WashSmart washing machine from Fisher & Paykel is easy to use and very practical. This unit is ideally suited for those who are looking for a simple and efficient laundry solution.
The controls are easy to navigate and let you select from six different wash programs. With this washer's fast cycle times, you can wash a full load in roughly an hour, so you can wear that fresh outfit sooner. The SmartDrive motor is quieter and consists of less parts compared to a conventional washing machine. This ensures reliability, durability, and longevity. The agitator features flexible fins to reduce tangling, while gently and thoroughly cleaning your garments. The lid features a soft close mechanism to avoid slamming for a safer and more peaceful laundry.
Depth

600 mm

Height

1075 mm

Width

600 mm

Energy Star Rating

2.5

Water Star Rating

3.5

Finish Colour

White

Number of Programs

6 Programs

Washing capacity

8.5 kg

Spin Speed

1000 RPM